Airscape
Public Park and Trail at O'Hare Airport, Chicago


Team: Clare Lyster, Bruna Finimundi, Amparito Martinez and Domnic Marlowe
Client: Chicago Architecture Foundation (CAF) 50 Designers / 50 Wards Exhibition 2016

AirScape is a 700-acre public landscape on vacant land on the periphery of O'Hare Airport comprising a series of recreational and ecological environments connected by trails that together form a ring-like-buffer around the airfield. Special zones are dedicated to mitigating acoustic and air pollution, while other spaces address the operations of the airfield from animal habitats and bird detention zones to snow banking. Airscape is conceived as a l planning agent that invigorates the aesthetic, civic and cultural possibilities of large scale infrastructural landscapes.




12 spatial zones are connected by 10 miles of trails (jogging; biking; walking) that also link the park into the surrounding neighborhoods (Rosemount in the east and Bensenville in the south west) and to other transportation networks and public spaces close to the airfield.




Since 2013 and as part of its sustainability program, O'Hare Airport has used goats and llamas to trim grass at the airport. Shelters and pens accessible to the public are provided so the animals can stay on site as well as a wildlife research center, where the full time biologists that work at the airport can monitor the airfield; conduct field tests; tag and treat stray animals and birds and manage other safety concerns.




Rubble and fill from the construction of the last parallel runway on the northside of the airfield is compacted to create a solid landmass, while carved out voids are designed and programmed for a range of public uses. The thickness of the landmass provides insulation from the noise of planes that take off and land on this side of the airfield.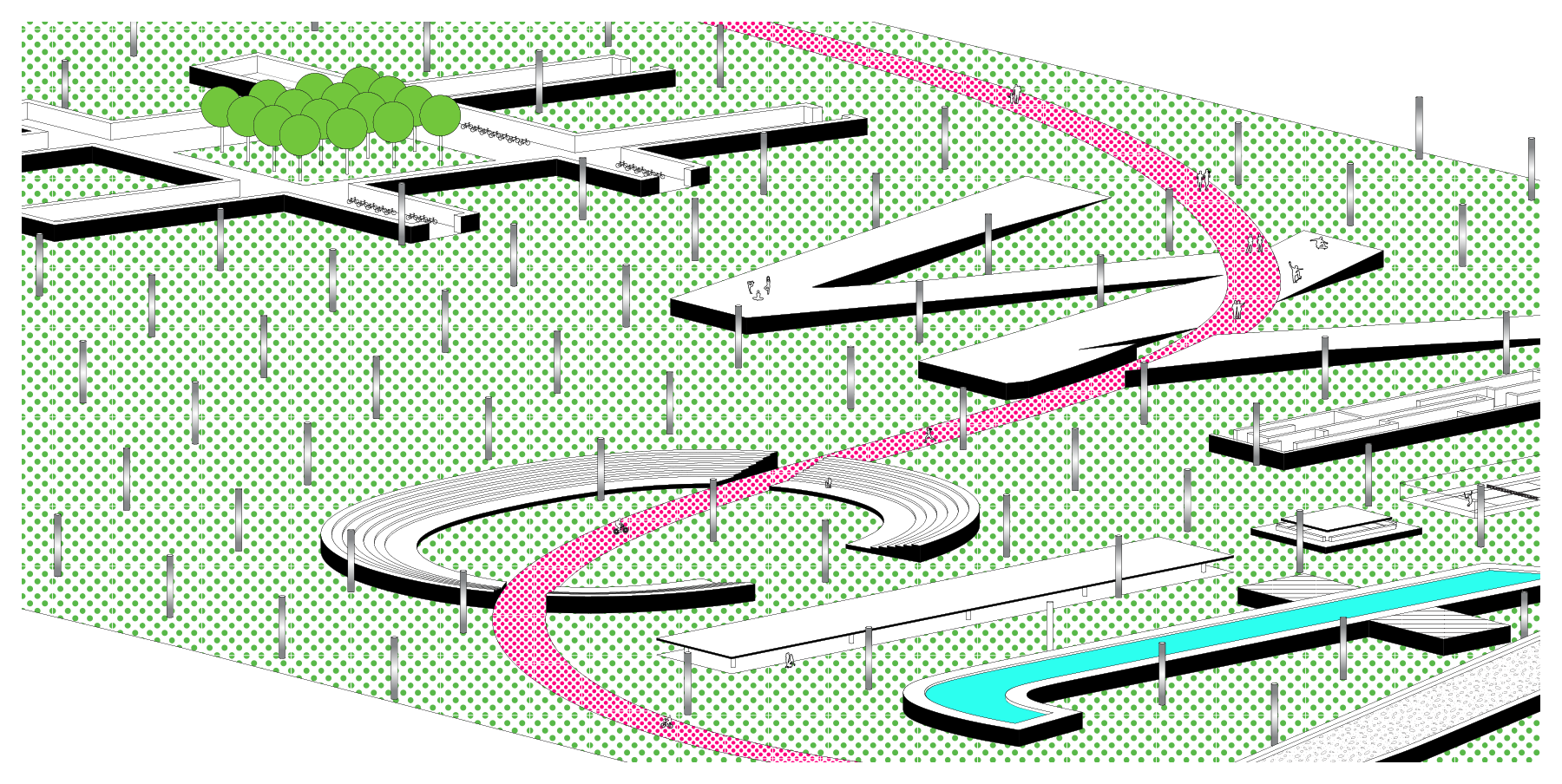 Given the extent of traffic in and out of O'Hare, poor air quality around the airfield is a serious concern. Polluted air is channeled through and filtered by a field of clean air diffuser posts. The overall effect is an artificial forest, that provides park users with a safe habitable atmosphere.

Clare Lyster Urbanism and Architecture (CLUAA) 2023 — Chicago, Illinois